Fast container service at your location
Please come to Geelhoed if you need a container on location to store and remove your scrap metals. Our fast, easy and reliable container service makes sure we are able to transport your metals the way you want us to. Our regular customers know that we meet their individual demands.
We provide containers and smaller boxes for all sorts of non-ferrous metals, iron, turnings, cables and lead batteries. Please feel free to call us and discuss your situation and requests. If needed, we make an appointment at your place. We offer solutions for storage and transport of scrap metals and are always willing to indicate the value of your material. In Nootdorp, we use two weigh bridges and two scales to weigh the metals. You are welcome to ask us in advance with regard to the price per kilo and choose to be paid in cash or via bank transfer. Quick, easy, honest and transparent!
One-time container service?
Do you need one-time transportation of scrap metal or do you lack space for a permanent container? You can hire a container on location for one or more days, so you will have time to fill it whenever you like.
If necessary, we can take care of all your administrative issues, which saves you time and a lot of hassle.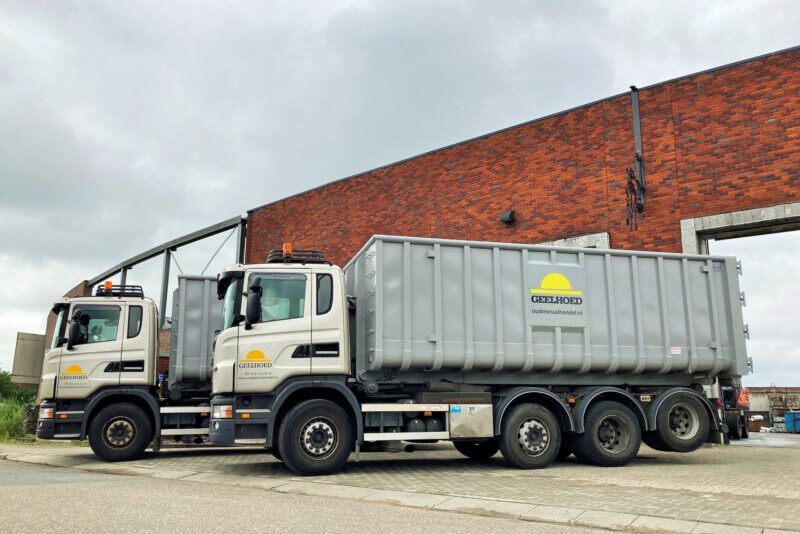 Would you like to know more or order a container on location?
Containers and boxes available
The container service offers different kinds of containers to companies and individuals, e.g. sealable 20 ft. shipping containers. We have small boxes of 1-2 cubic metres, low containers of 12 cubic metres and high containers of 25 to 30 cubic metres. Please see below several examples of boxes and containers. If a full container is regularly emptied, we offer container exchange; if you call us we bring an empty container and remove the full one within a day.
We pick up the container at your place and have the material weighed at our site, openly and honestly. We offer competitive prices for all your scrap metal. The containers and boxes are unloaded at the Geelhoed premises and we will process the metals.
Shipping container (20 ft)
Volume: 30 m3
Outer dimension: l6.1 x w2.4 x h2.4 m
Sealable
Disposal container (2 compartments)
Volume: variable partition of compartments
Outer dimension: l6.0 x w2.4 x h1.8 m
Including intermediate valve and doors at the rear
Disposal container (low)
Volume: 15 m3
Outer dimension: l6.1 x w2.4 x h1.3 m
Doors at the rear
Plastic box for lead batteries
Volume: 0.65 m3 (+/- 1 ton lead batteries)
Outer dimension: l1.2 x w1.0 x h .8 m
Impervious to liquids, suitable for lead batteries
Plastic box (pallet box)
Volume: 0.65 m3
Outer dimension: l1.2 x w1.0 x h0.8 m
Suitable for draining (of e.g. drill oil), suitable for turnings, made of recycled plastic