Geelhoed is an 'old-fashioned' family company; however, our business operation is very modern, flexible and sustainable. Here you will find information about our valued staff, our company's position in the metal recycling industry, information about the company and corporate publicity.
Staff members and service
Professional, flexible: that is why our clients visit Geelhoed
Geelhoed Metaalhandel would not exist without our experienced staff members. We employ eleven specialists, seven of whom are descendants of founder Jan Geelhoed and his wife. Our staff members are the cornerstones of the company. Among other things, they take care of loading and unloading on and offsite and ensure swift and correct service. Our customers chose Geelhoed because our staff is friendly, decent and professional, among other things. They make us proud!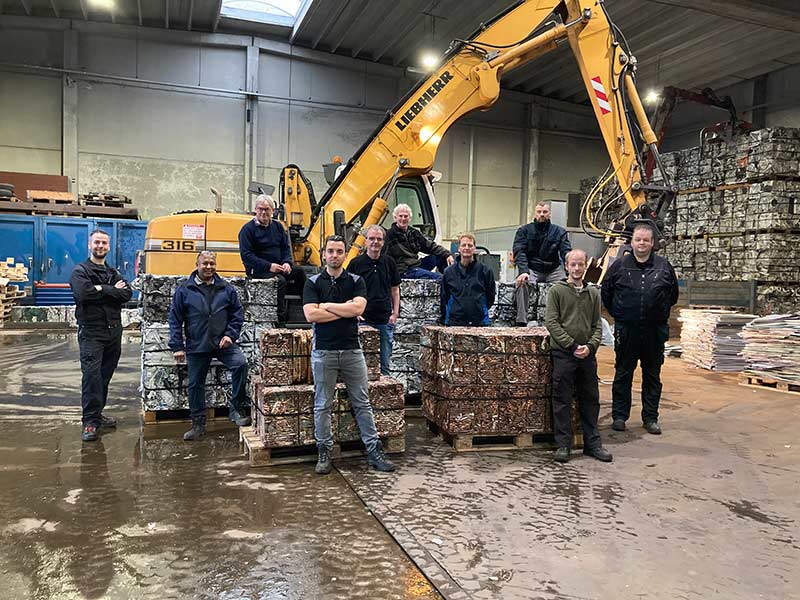 Service and flexibility as core values
Over the years, Geelhoed has always been a service-oriented and flexible company. For 65 years, Geelhoed gives high priority to customer focus but also to transparency, honesty and fast service.
Clients
Clients come to Geelhoed for a good, honest price for their scrap metal, because of the friendly and professional staff and because of the fast service. Many customers have known the company for decades, because they visited the Geelhoed site with their fathers when they were young, to bring scrap metal. Former director Gerrit van Winkelen, who recently turned 80 and still works for the company, started at an early age as well.
Vision and focus
How do we deal with our clients, staff and the environment?
The continuity of Geelhoed Metaalhandel depends on its surroundings, relations, staff and executive board. Healthy development of the company will ensure that the needs of the stakeholders are met in the future as well. In order to do so, we have adopted the Metaal Recycling Federatie (Metal Recycling Federation; MRF) codes of conduct. Please find the codes of conduct on the MRF website. Geelhoed's four main intentions and objectives are:
Monitoring and improving services
Looking after the health, safety and wellbeing of our staff
Complying with legal prescriptions and caring for the environment
Active staff participation in organisation improvement
Both executive board and staff members are working hard to realise these objectives.
MRF membership (and MRF certification)
In May 2019, the audit results for MRF certification were again positive.
Geelhoed Metaalhandel again passed the audit for MRF certification, conducted by SGS (the certifying authority), successfully in May 2019. The audit report concluded: "No shortcomings were found. The action plan from RI&E was adequately addressed." The most recent MRF certification sticker is located on the MRF shield on the wall near the company building entrance.
Geelhoed Metaalhandel BV is a member of the Metal Recycling Federation (MRF). Metal recycling is a thriving sector that prevents exhaustion of scarce raw materials, waste production, unnecessary energy consumption and CO2 emissions. It is a sustainable sector. The MRF strives to further professionalise the industry and has therefore introduced compulsory certification, the MRF certification, in 2008. All MRF members, including Geelhoed Metaalhandel, have to pass the certification audit. Several issues will be addressed during the audit: environmental licenses, rules of conduct, administrative organisation, purchasing procedures and complaint handling. Soil protection, air pollution, energy saving, noise and safety regulations, internal transportation, machines and equipment, fire extinguishing equipment and emergency routes are also addressed.
History

When former director Gerrit van Winkelen was 14, he helped his stepfather – Jan Geelhoed, founder of the company – with his work. He purchased all sorts of metals in Zeeland for a company in The Hague.
He decided to start his own metal trading company in the fifties of the 20th century. Gerrit and his father led the company, which was first located in the Boerhavestraat and then in the Waldorpstraat in The Hague, for years. And now, more than sixty years later, he is still active. "It is a hobby", he says. His sons Gert-Jan and René van Winkelen are also happy to work in the metal trade, after working elsewhere. The two brothers form the executive board of Geelhoed Metaalhandel.
Een kijkje in de geschiedenis van Geelhoed.
Foto's van het bedrijf in de Boerhaavestraat en de latere loods aan de Waldorpstraat.
Move to Nootdorp
Geelhoed Metaalhandel moved from The Hague to new premises in Nootdorp by the end of 2007. The shed, forging department, offices and outside area were built on a piece of land of 6000 m2, adjacent to highway A12. The new outside area is large and efficient. There are two gates to enter and leave the site and both the shed and the outside area offer a great deal of space to load and unload. Weighing is done on two weigh bridges (one inside and one outside) for truck combinations, transporters and trailers and on two scales (inside) for pallets, containers, bags, boxes and other material.
The bright, red-brown external brickwork catches the eye, as well as the steel beam in the company colour (yellow), which serves as a landmark for visitors. The two gates are surrounded by aluminium home-made packets. This is our 'business card', which joins together all our activities.
Geelhoed in the media

Publications about Geelhoed Metaalhandel
Geelhoed has attracted the attention of the media over the past years. Interesting articles were published in (professional) magazines and several movies were made. Below you will find a selection.
Article Schrootkrant on baling
Dutch Schrootkrant publishes article about Geelhoed's new scrap baler and the switch to solar energy
The Schrootkrant published an article about how Geelhoed bales your scrap metal. It informs you how baling may benefit your company. In an interview, our directors explain why they chose solar energy as sustainable energy source for their scrap bailer. Show article (in Dutch)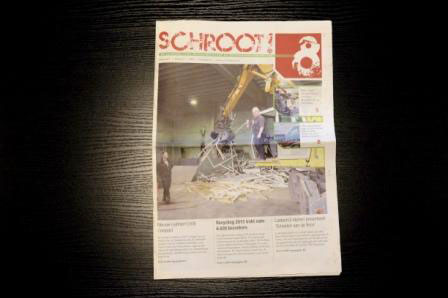 Meeting of top civil servant and the MRF
Ms Hannie Vlug, Director Sustainability at the Ministry of Infrastructure and Environment, visited Geelhoed. She had never visited a metal recycling company before. Thus, the MRF board was eager to inform her about our sector, about our strengths but also our wishes. Sometimes, in order to understand the usefulness and necessity of the regulations, the discussion was lively but constructive. Show article (in Dutch)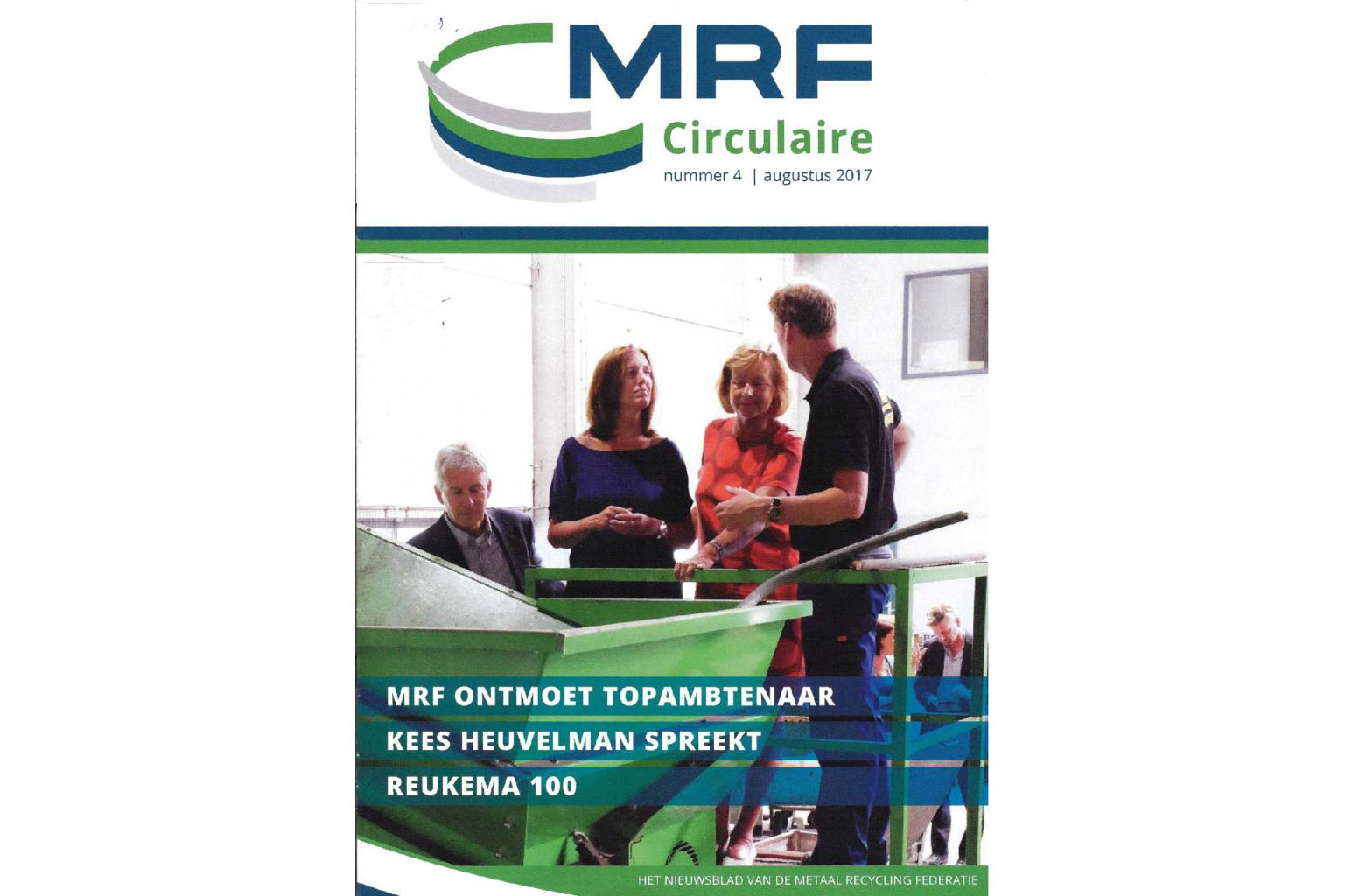 Recycling magazine
Running an enterprise with respect for man and environment
Gerrit van Winkelen and his sons René and Gert-Jan have spent a great deal of thought on how they would like to position their metal recycling company: in the middle segment. Gerrit: "We are not a small company, but not a large one either. The middle segment is ideal for us to act as 'intermediary' in the business chain." Show article (in Dutch)
Schroot magazine
We are not familiar with the word 'no'
At Geelhoed Metaalhandel – a family business run by Gerrit van Winkelen and his sons Gert-Jan and René – the focus is on scrap metal baling. Even customers with a one-off charge are welcome to have their metals bailed into handy packets. The advantage of a small-scale baling company is its flexibility: "We are not familiar with the word no", according to the company owners. Show article (in Dutch)